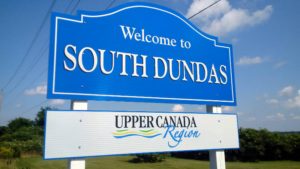 ARMED ROBBERY SUSPECTS SOUGHT
On January 13, 2017 at approximately 10:55pm, Stormont, Dundas & Glengarry (SD&G) Ontario Provincial Police (OPP) officers, with the assistance of OPP Emergency Response Team (ERT) and OPP K-9 members responded to a report of an armed robbery at a business (Mac's Milk) on Plaza Drive in the Village of Iroquois, South Dundas Township.
Investigation indicated that an adult male and female entered the store when the male brandished a suspected firearm at a female employee. The suspects fled west of the location with a quantity of cash, lottery tickets and cigarettes. A silver Volkswagen vehicle is possibly involved. They are described as follows;
Male: white, approximately 25 years, 5'5", slim build wearing a black toque and black t-shirt with a logo.
Female: white, approximately 25 years, 5'3", heavy build, brown hair wearing a dark hat and bandana
If you have any information on this or any other crime, Please call Crime Stoppers at 1-800-222-8477/TIPS, or you can submit a tip on line at: seawayvalleycrimestoppers.ca
Remember we don't need your name, you will remain anonymous, we don't have call display, you don't have to appear in court, and you could be eligible for a cash reward of up to $2000
Crime Stoppers, it's your program, and it works