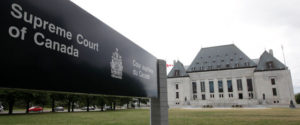 The identity of people giving tips to Crime Stoppers has been protected by the Supreme Court of Canada. Canada's highest court ruled unanimously on February 16th, 1997 that police do not have to disclose any information they receive from this internationally recognized crime prevention program.
Justice Beverly McLachlin, in writing the court's decision said protecting informants has always been a priority in law.
"The rule of informer privilege is of such fundamental importance to the workings of a criminal justice system it cannot be balanced against other interests relating to the administration of justice," McLachlin wrote. "Once the privilege has been established, neither the police nor the court possesses discretion to abridge it."
This Supreme Court decision confirmed a long-standing position of Crime Stoppers:  that any details about the informant or information received, however minute, could jeopardize the informant's anonymity, and as a result, destroy the integrity of the Crime Stoppers program.